Kenmount Terrace Community Center
Location:

St. John's, NLCanada

Industry:

Commercial Construction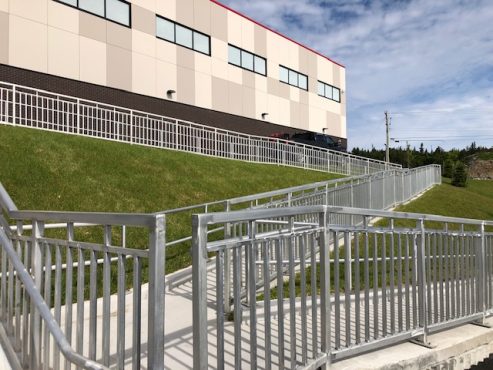 Structural steel and miscellaneous metals for a new community centre in Kenmount Terrace.
The Challenge
This project included structural steel and miscellaneous metals for a new community center in St. John's. In addition to steel works inside the building, the project required aluminum guardrails and handrails at the exterior wheelchair ramp and access stairs.
Getting the correct slope of handrails on ramps, welding aluminum onsite, and acquiring the measurements needed to fabricate in shop for field fit were all challenges that presented themselves and were solved during the course of this project.
The Steelfab Solution
Upon completion of exterior concrete work, we site-verified elevations and alignments and prepared engineered shop and fabrication drawings for submission – all in accordance with the project specifications.
We fabricated the railings in sections in our shop. Then our field crew fitted and connected railings to suit site concrete conditions. We also supplied and installed exterior aluminum railing for wheelchair ramp.